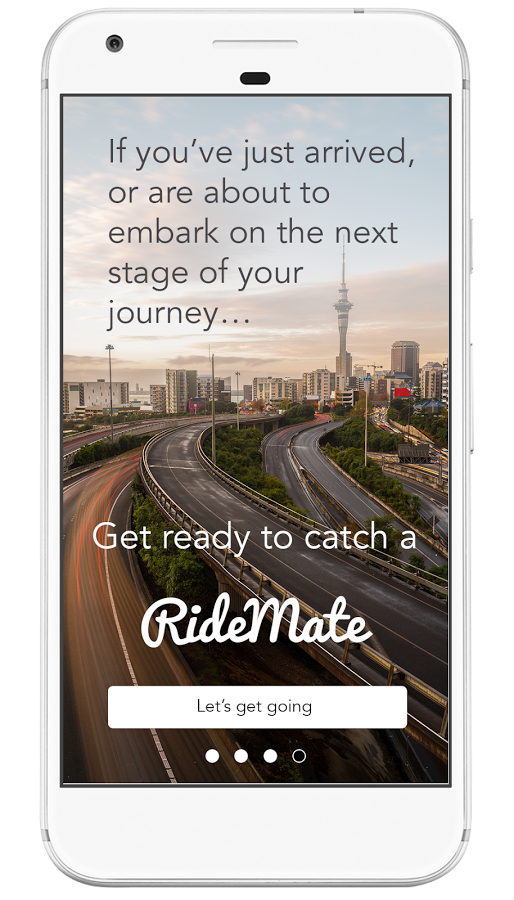 Get ready to catch a RideMate
Use RideMate to help you choose, plan and get to where you want to go, connecting you from Auckland Airport to the city. Once you've compared your options and chosen your ride, you can watch your bus/train/taxi/rideshare arrive in real-time.
We have partnered with the New Zealand Transport Agency and Auckland Transport to launch the first real-time transport app in Auckland that offers a range of transport options all in one place. RideMate is a real-time mobility app, providing a range of transport information via a free and open marketplace.
RideMate offers:
All your airport wayfinding information at your fingertips – maps, changing terminals, terminal buses and important points of interest
Multi-lingual uses: English, Japanese and Chinese Mandarin
Real-time information and tracking on a range of transport options

Auckland Transport buses and trains
Taxis: Alert Taxis, Auckland Co-op Taxis, Cheap Cabs, Corporate Cabs and Green Cabs
RideShare: Chariot and Smart Travel
Shuttles: Super Shuttle

Information about public transport services
Trip management – recent trips and bookings
Fun facts about Auckland
The cool thing is, this is just the start!
More transport options and features like multi-journey planning, in-app payments and additional languages (just to name a few) are on their way.
---
Download RideMate from Google Play or the App Store today
---
Get in touch
If you are interested in joining the Mobility as a Service marketplace then please get in touch with us at Mobility.Marketplace@nzta.govt.nz.