Arrival procedures at Auckland Airport enable passengers to easily plan and go through airport safety and security processes, to allow for a smooth entry through the gateway to New Zealand.
To make your experience with us convenient and pleasant, all arriving passengers have access to currency exchange, duty free shopping and many other world-class services and facilities.
---
Arriving in Auckland
When arriving in Auckland, passengers must proceed to the passport control point. You will need to have the following documents ready:
Once processed, you may proceed to baggage reclaim to collect your bags.
---
Immigration requirements
Unless you are a New Zealand citizen, resident or from a visa-free country (a full list of is available on the New Zealand Immigration Service website, details of which are listed below) you will probably be required to have a valid visa before entering New Zealand. Visitors who are not required to have a visa will still need to show:
a return travel ticket or evidence of onward travel arrangements
evidence that you have sufficient money available to fund your visit.
For further information about visas and other immigration requirements, please visit the New Zealand Immigration Service website or visit one of their branch offices.
---
Anything to declare?
After collecting your baggage, proceed to the exiting point where your passenger arrival card will be checked by an officer prior to passing through Customs and the New Zealand quarantine inspection service.
Every passenger carrying NZ$10,000 or more in cash and/or foreign currency equivalent must notify a Customs officer.
---
What to declare
Don't forget to declare any necessary items, as there are severe penalties for failing to declare articles that are prohibited, restricted or for which you are required to pay duty/sales tax.
For further information about what can and cannot be brought into New Zealand, please contact:
New Zealand Customs Service
Freephone: 0800 4 CUSTOMS (0800 428 786)
Phone (outside New Zealand): +64 9 300 5399
www.customs.govt.nz
---
Agriculture and quarantine
Ministry for Primary Industries (MPI) aims to prevent the entry of pests and diseases which could endanger New Zealand's important agriculture and horticulture industries.
It is important to remember that if you have any animal or plant item with you, or packed in your luggage, you must declare it on your passenger arrival card. Please note that unaccompanied baggage may attract inspection charges.
For further information about quarantine restrictions, please contact:
Ministry for Primary Industries
Phone: +64 4 894 0100
www.mpi.govt.nz/
---
Domestic transfer
Before booking a domestic flight please allow around three hours to cover procedures for entry into NZ, transferring to the Domestic Terminal, as well as any unexpected flight or processing delays.
If you are catching a domestic flight within NZ please collect your luggage, clear NZ Customs and MPI (Biosecurity) and then proceed to the relevant check in for your domestic flight.
For Air New Zealand, the Domestic transfer desk is located on the ground floor of the International Terminal. For connections within 60 minutes and all other airlines proceed directly to the Domestic Terminal.
Luggage will only be checked in if you have allowed at least one hour before the departure of any domestic flight.
If you miss this check-in time please go directly to the domestic terminal by using the free inter-terminal bus or by following the sign-posted walkway.
If your checked in luggage weighs more than 20kg, or carry on luggage more than 7kg, an excessive luggage charge may apply.
Our airport maps will show you where to go and you can catch the inter terminal bus and our helpful staff are always ready to lend a hand.
---
Driving in New Zealand
There are a few things that you may not be used to when driving in New Zealand. For example:
we drive on the left side of the road
it's easy to underestimate travelling times here
our roads are narrower, more winding and sometimes steeper than you might expect
our roads are mostly two-way, with one lane in each direction - we have few motorways.
Make sure you have a safe and enjoyable journey. You can download a Driving in New Zealand leaflet for information on the key road rules - available in English, Spanish, Portuguese, French, German, simplified Chinese, traditional Chinese, Japanese, Korean, Thai and Arabic.
Click here for more information about driving in New Zealand.
---
Transferring to another international flight
If you are transiting in Auckland to another international flight you need to go to the transit and transfer area.
Within the transit and transfer area you will undergo security screening which is required before you can board your next flight. At this screening point restrictions apply to the liquids, aerosols and gels (LAGS) that you can take through the screening point and on to your flight. Please be aware that liquids, aerosols and gels bought duty free in other airports (including alcohol, perfumes and creams) are subject to these restrictions and may be confiscated. Find out more about the regulations around liquids, aerosols and gels.
Once you have cleared the transit screening point the full range of Auckland Airport departures facilities are available to you including duty and tax free shopping, food and beverage facilities, showers and toilets.
---
Tourism Information
i-Site
Tourism Auckland i-SITE information centre is able to assist with all your travel requirements throughout New Zealand including:
Bus,Train and Ferry Tickets
Accommodation
Sightseeing Tours
Rental Cars/Campervans
Location: Ground floor, arrivals area
Opening hours: 6am - 10pm, 7 days a week
Phone: +64 9 365 9925
Fax: +64 9 256 8942
Email: air_int@aucklandnz.com
---
Other information
Duty free shopping
Duty Free stores are located in arrivals for arriving passengers to make last minute duty and tax free purchases. Remember to pick up pre-ordered duty and tax free items from the respective collection counters before proceeding to the baggage claim area.
Customs information about duty free allowances is available, if you have any questions.
Duty free shopping – international transfers
There are many duty and tax free shopping facilities for transiting passengers once you have gone through the security screening process. To complete the shopping experience stop and have a bite to eat at Café Espresso or Burger King, or enjoy a relaxing drink at Blue Bar before boarding your next flight!
Currency
Travelex is the world's foreign exchange specialist, with 10 stores located in the international and domestic terminals. The exchange is open 365 days a year, for all passengers' arriving and departing flights.
All major currencies are available from Travelex at the international and domestic terminals.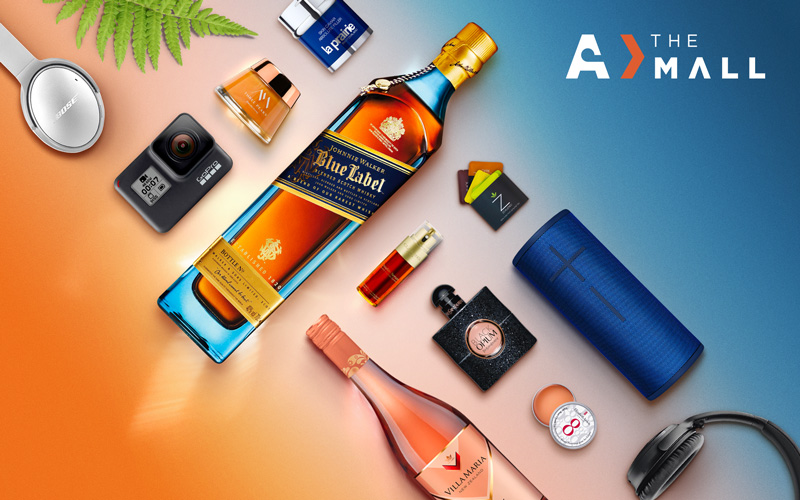 The Mall
A new online shopping experience, exclusive to international travellers.
---
Find out more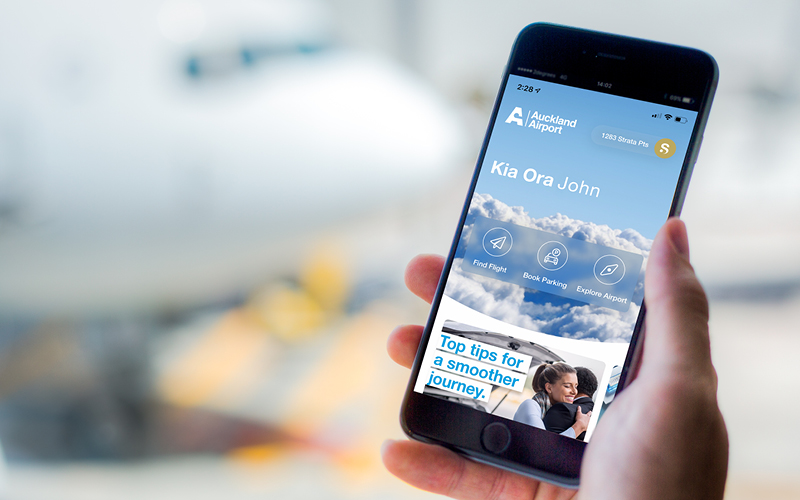 Download the Auckland Airport app
From home to gate, now in a single app.

No more swapping apps on your phone... your new 'home to gate' journey planner is now live on the Auckland Airport app.
---
Learn more