We're looking beyond to create a world-class travel experience
Auckland Airport is building a better future for travellers, delivering quicker effortless arrivals, fresh modern terminals and new spaces to dine, shop and enjoy. And that means we're looking to make some changes. You'll find everything you need to know right here.
Arriving at Auckland Airport
While we are making changes, Auckland Airport may look different each time you arrive. Check out our airport maps to familiarise yourself before you arrive.
As we near completion of our new canopy walkway we need to carry out important roading works in the surrounding area. To enable this, a small section of the container walkway connecting the international terminal to carparks D and E, rental cars and shuttles has been removed. This section will be uncovered until the first stage of the canopy walkway opens in mid December. As Auckland weather can be very changeable, please be prepared, an umbrella may be handy.
Flight information
Be sure to check flight times.


Parking
Book your parking well in advance of travelling.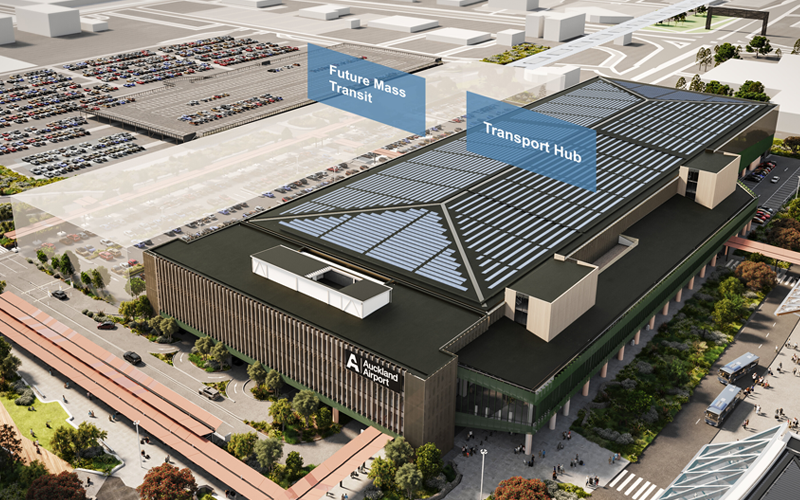 Building a better future for travellers at Auckland Airport as construction ramps up again
Journeys at Auckland Airport are about to get smarter and smoother with shorter transfer times thanks to the development of a world-class transport centre to be built at the front doorstep of the international terminal - the first of a major new suite of projects about to get underway.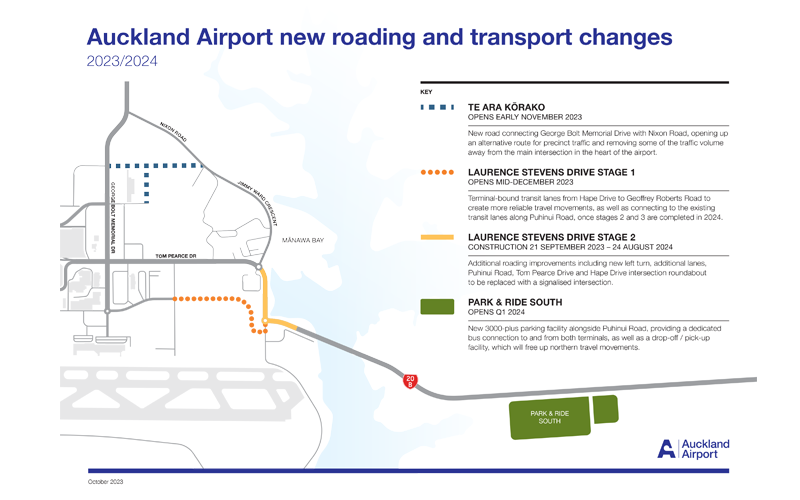 New Road Te Ara Kōrako kick-starts wider roading upgrades

The final piece of the Northern Network project is complete with new precinct road Te Ara Kōrako.
Te Ara Kōrako connects George Bolt Memorial Drive with Nixon Road, opening an alternative route for precinct traffic and diverting some of the traffic volume away from the main intersection at Tom Pearce Drive.
As well the completion of Te Ara Kōrako, there's also wider roading upgrades along Laurence Stevens Drive.
The first stage of the Laurence Stevens Drive work is set to be completed by late December 2023, and provides a new terminal-bound T3 lane from Hape Drive to Geoffrey Roberts Road. Stage two starts in mid-January, and involves replacing the roundabout at the Puhinui Road, Tom Pearce Drive and Hape Drive intersection with a signalised intersection, adding an additional lane on Tom Pearce Drive, between the new signalised intersection and Jimmy Ward Crescent, as well as adding a second terminal-bound lane between Hape Drive and Pūkaki Bridge.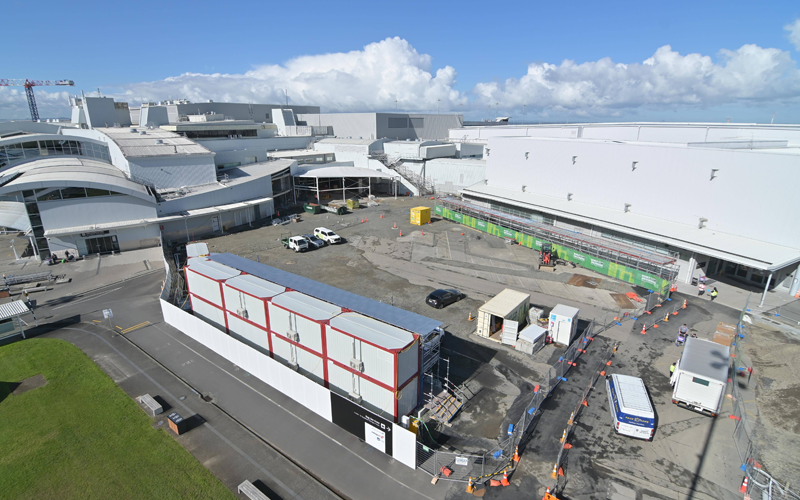 Progress at Western Truck Dock
Auckland Airport's integrated terminal enabling projects (six work packages in total) are in different phases of construction, and on our Western Truck Dock site we're seeing noticeable changes to the footprint and progress in the area.
Located to the west of the International Terminal Building, the under-construction workspace will be the new home for truck deliveries of all goods and services, food and beverages, as well as duty free products into the international terminal.
When it's completed in the second quarter of 2025, it replaces the current truck dock at the eastern end of the terminal behind check-in to allow for the completion of the baggage handling system as part of the programme of work to build the new domestic terminal.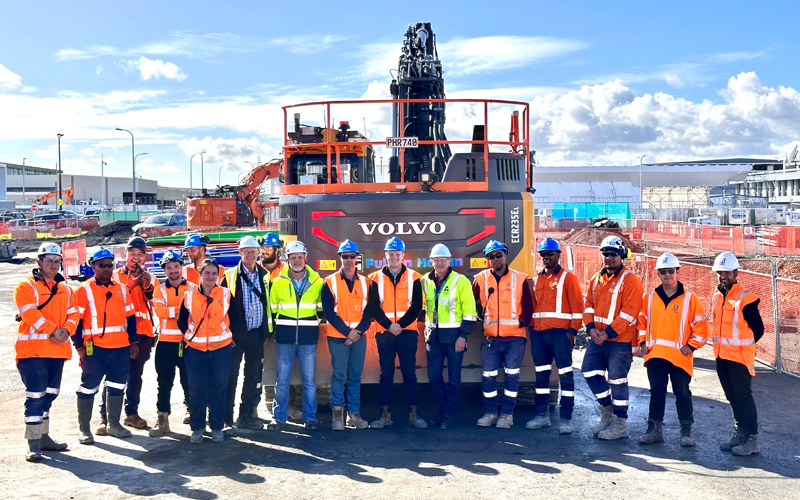 Safety in numbers and hours
There's a lot of mahi taking place all over the precinct, and crucial to these works is the safety of Auckland Airport's people and customers.
It's imperative Auckland Airport is operating in a safe work environment, and recently best-practice safety was highlighted on the Common Services Trench (CST) project.
The project involves the excavation and installation of a common services trench for utilities such as electrical cables, water pipes, gas pipes and communication cables to support our terminal operations and future development plans.
Fulton Hogan, the contractor for the project, recently notched up 40,000 hours without any serious incidents. This demonstrates the team's commitment to running a safe workspace in a complex and fast-moving environment.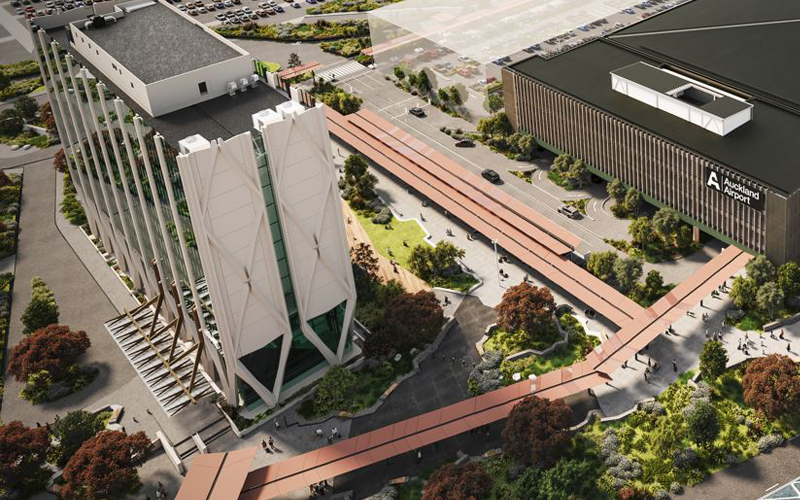 Creating the canopies for the new Transport Hub
The Transport Hub build continues to charge ahead, and one of the improvements is the container walkway being upgraded with a new permanent canopy later this year, shortly followed by refreshed landscaping around the Novotel Hotel to provide a significant uplift in the experience for customers in this landside plaza area.
Steel beams for the permanent canopy have been installed in the ground in preparation for the final canopy. These walkways will provide a much-improved entry and exit for travellers and visitors walking to and from the International Terminal Building.
We're tracking towards the ground floor of the Transport Hub opening in the first quarter of 2024.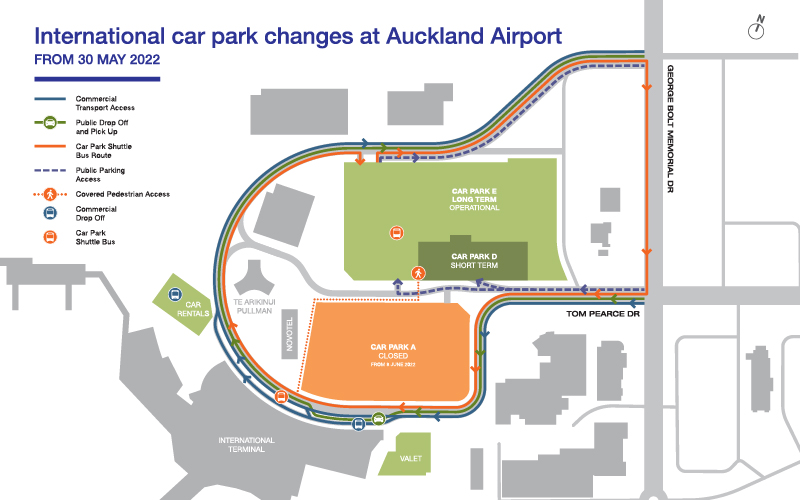 Where do I park now?
If you're heading off to see the world or picking up someone who's just seen it, give yourself a little more time to reach the international terminal. Because the car park is now a little walk away.
The main car park outside the international terminal (Car Park A) has closed to allow enabling works for the new Transport Hub to begin. The new options are Carparks D and E, which are approximately a 5-10 minute walk to and from the international terminal. If you would prefer, a free transfer bus to the terminal is available daily between 5am-11pm every 15 minutes from both car parks.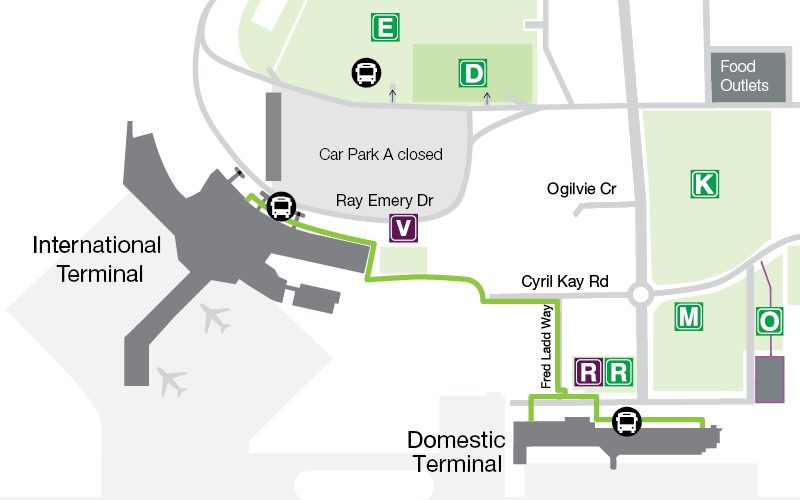 Auckland Airport's 'green line' is back
Stretch your legs and get some fresh air by taking our inter-terminal walkway between the two terminal buildings. The walkway is indicated by a green line painted on the footpath and is approximately a 10-minute walk.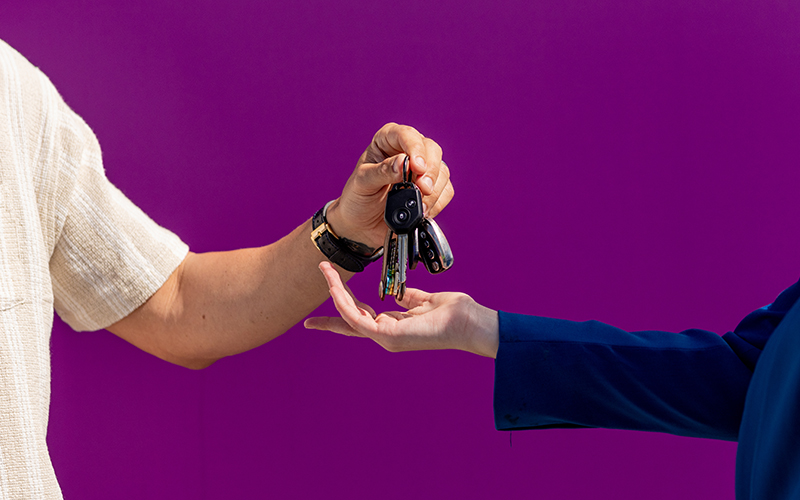 Mobility Parking
We're looking beyond to smooth connections for people with mobility impairments. While we're building a new Transport Hub our mobility parking spaces will be relocated to Car Park D and Car Park E. But we've got options for mobility parkers, including a Mobility Valet service.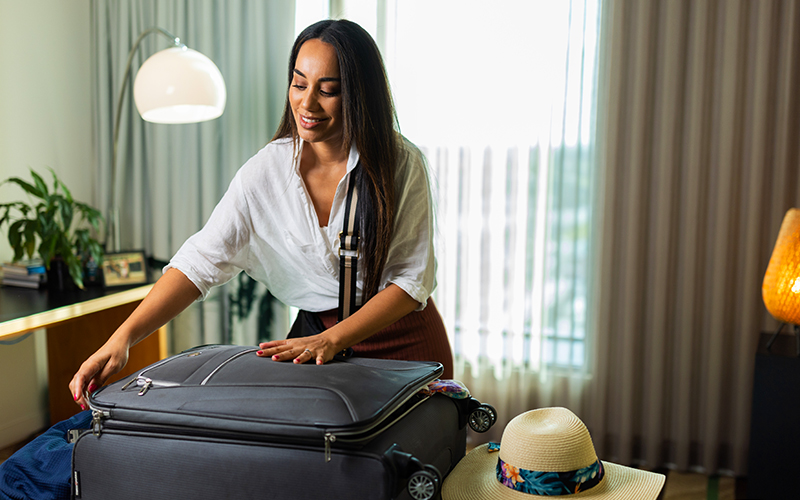 Get ready for your trip
Find out more about general security information at Auckland Airport as well as the rules regarding travelling liquids, aerosols and gels plus terminal maps and local shops and services.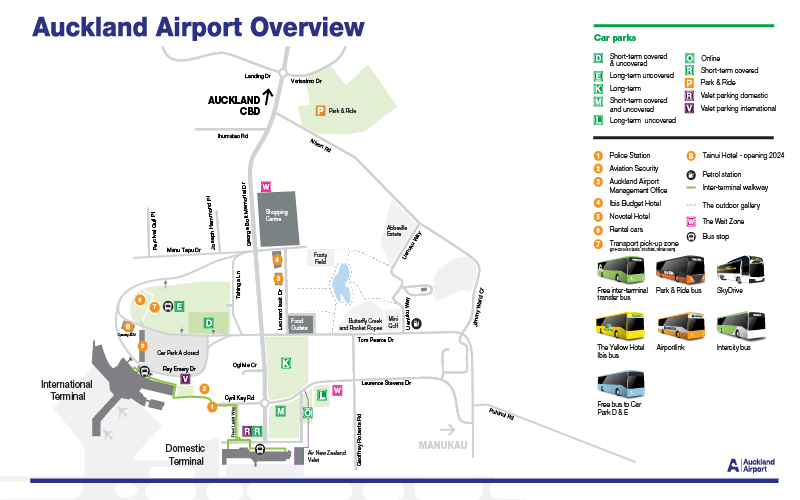 On the road: Auckland Airport to kickstart 2023 with a trio of transport projects
A brand-new road, new parking option, and easier public transport access are among the projects kicking back into construction activity at Auckland Airport in 2023 as we prioritise the journey of travellers, employees, crew and cargo who need to access the terminal and wider airport precinct area.