Auckland Airport is currently operating with reduced facilities and services due to COVID-19 restrictions. To make you as comfortable as possible during your time in transit, we have provided an easy guide to help you plan.
As a transit passenger you can only travel through Auckland International Airport where you must stay in the transit area of the airport or on board your aircraft. Normally you must spend less than 24 hours in transit in New Zealand, but this may change at short notice due to COVID-19 Alert Levels. Visit Immigration New Zealand for more information.
Due to COVID 19 restrictions, we have a dedicated, separated area for our transit guests which has limited facilities and services.
Preparing for your time in transit
You will not have access to your checked baggage. This will be transferred to your onward flight. Please carry any medication and or items you may need during your time in transit.
It is recommended to bring some additional warm clothing. Blankets are not able to be provided due to new health requirements.
No personal items can be delivered to guests in the International Transit area due to security requirements.
Food from your point of departure may be brought into the transit area. This is not subject to quarantine inspection.
Vending machines with food and hot and cold drinks are available. Payment options include major credit and debit cards, Apple Pay, Google Pay, Wechat Pay and AliPay.
Vending Machines contain:
Coke Cola range
Bottled Water
Fruit Juice
Iced Coffee
Hot Coffee
Hot Chocolate
Hot Tea
Hot Soup
Muffin selection
Cookie selection
Carrot Cake
V
Chocolate Cake
V
Mexican Burrito
V
Greek Wrap
V
Indian Wrap
VV
Falafel Wrap
VV
Dijon Pasta Salad
V / DF / NF
South Western Pasta Salad with Bacon
Tuna and crackers
Spanish Smokey Paprika Tuna w/Brown Rice
Thai Kaffir Lime Tuna with Brown Rice
Moroccan Tuna with Couscous
Apple & Berry Yoghurt Granola Pot
Peach & Mango Yoghurt Granola Pot
Confectionary selection
Potato chip selection
Corn chip selection
Plain and salted nut selection
Cheese and Crackers
Baby Food selection
V – Vegetarian, VV – Vegan, DF – Dairy Free, NF – Nut Free
A microwave is also located close to the vending machines.
Customer service
We are here to help and are available at all times. You can contact customer service by using one of the helpdesk phones or emergency phones.
For Customer Service dial 0
For Emergency dial 98777
Your location is, International Transfers – Gate 15
Travelling with children
Bring your own entertainment for children. Seating within the transit area contains power outlets to charge devices.
A parent room consisting of a change table and is available.
Lost property
Please remember to take everything with you when you leave as lost property from this area cannot be returned to you.
Safety and security
CCTV monitoring remains in place for your own safety
Please stay in the designated transit area until your flight is announced through the PA system
When you are called for boarding you will be transported by bus to your aircraft
You are required to wear a face mask whilst in this space to protect yourself and others. Bring a supply of face masks with you for your travels.
Maintaining a safe social distance of at least 1m from others is required
Please practice good hygiene by washing your hands regularly with soap and water, drying thoroughly and using the hand sanitiser provided
If anything needs a clean, please call us by dialling 0 from the helpdesk phone or emergency phone
Facilities
Our bathroom facilities are cleaned and serviced on a regular basis, however if an additional service is required please contact Customer Service.
A water bottle filling station is available. We recommend bringing a refillable bottle.
A smoking area is not available, and smoking is prohibited within the terminal building.
Evacuations and emergencies
In the event of fire evacuation alarms sounding, please move either to the nearest exit or to an adjacent area that is not being evacuated. Follow the instructions of Fire Wardens wearing yellow vests. If you require assistance to evacuate please make yourself known to the Fire Wardens. Alternatively, if an alert warning tone sounds, please remain where you are and wait for further instructions.
In the event of an emergency - medical, security, fire or other emergency, please contact Auckland Airport Operations either by dialling 98777 on an airport emergency phone or by calling 0800 677 242, ext. 9, or from your mobile dial: 00 64 9 256 8777.
Life safety equipment comprising a defibrillator, airport emergency phone and manual fire call points is located on the wall directly opposite the help desks.
Map of current services and facilities available for international transit travellers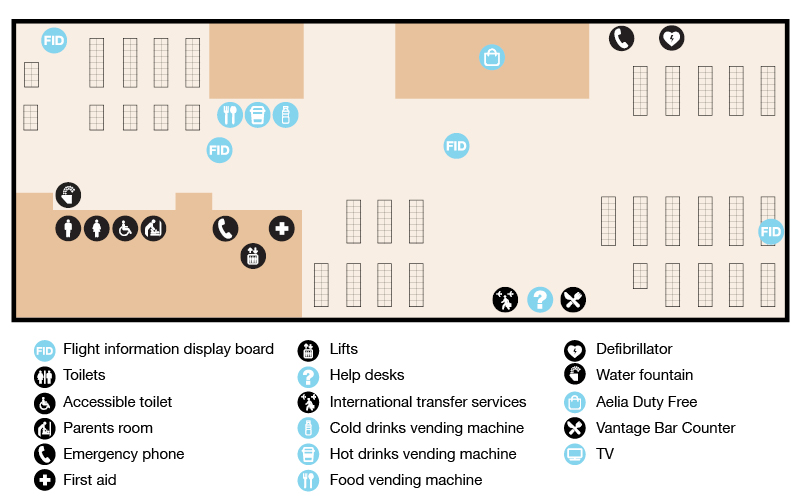 Auckland Airport Wi-Fi Hotspot
What is the name of Auckland Airport's wi-fi hotspot?
Auckland Airport


How do I access the Wi-Fi hotspot?
View your available Wi-Fi networks and select "Auckland Airport". Open your web browser and follow the onscreen instructions to connect to the hotspot.

What happens if I have problems with the connection?
First check that your Wi-Fi is connect to the "Auckland Airport" Wi-Fi hotspot. Alternatively, go into your browser and type in www.msn.com then press Go.
If you are still having problems, please contact the Wi-Fi provider on 0800 11 18 44.