February 2017
In addition to wishing you a belated happy new year, we'd also like to say a sincere thank you to all our partners and stakeholders for your support through the summer peak period.
That we were collectively able to overcome the constraints of ongoing major construction to welcome and farewell record numbers of passengers is testament not just to the recently-completed facility upgrades, but the cooperation and shared desire to provide a positive customer experience.
Those pre-Christmas upgrades included the new remote stands and taxiway on the airfield (pictured below), the opening of Baggage Carousel 5, new arrivals hall toilets, the new MPI Green Lane opening and the upgrade of all our check-in and FID screens. Behind the scenes we also carried out a comprehensive upgrade of our potable and fire water storage and pumping system.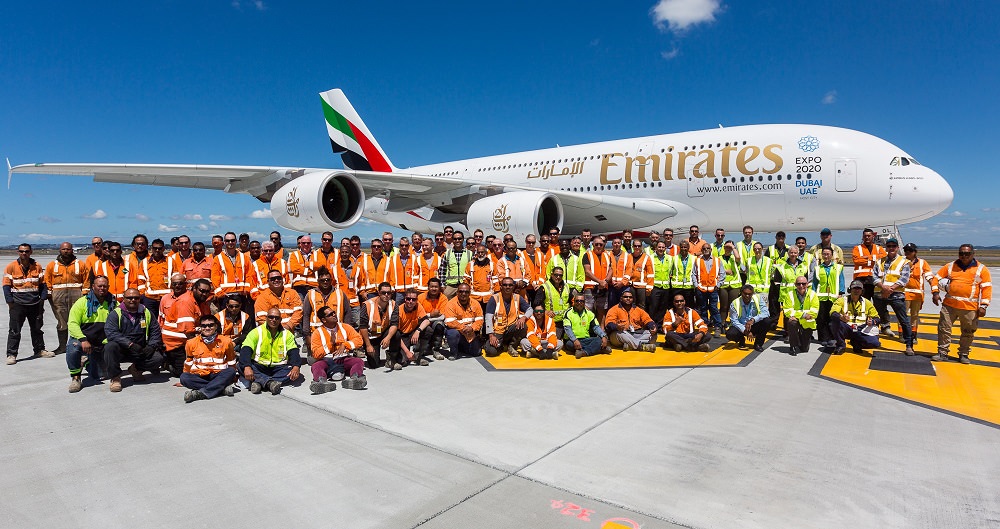 Efforts to enhance screening throughput in the international terminal at both departures and transit were also successful, enhancing the passenger experience and supporting on-time performance; while over at the domestic terminal, we implemented hold baggage screening ahead of government requirements
While the summer peak may be over, our focus from a construction delivery perspective remains very much on continuing to deliver our major works, with their many and varied interfaces, with minimum impact on our stakeholders.
We are committed to meeting the work package deadlines in place for the long-term benefit of all our stakeholders. Inside the terminal this will continue to involve work that can be both noisy and cause vibrations. Wherever possible we will look to schedule these works at a time that will cause least impact – but given the airport's round-the-clock operation and the tight space in which we're working, there will be occasions when some level of disturbance will be unavoidable. We will provide as much notice as possible around such works – and are, of course, grateful for your ongoing patience and cooperation.
Here's a look at where we've got to so far.
This year we will begin to reveal the staged transformation of our departure area, firstly with the new outbound processing area and the first half of duty free, then later in the year with more shopping and lounge space.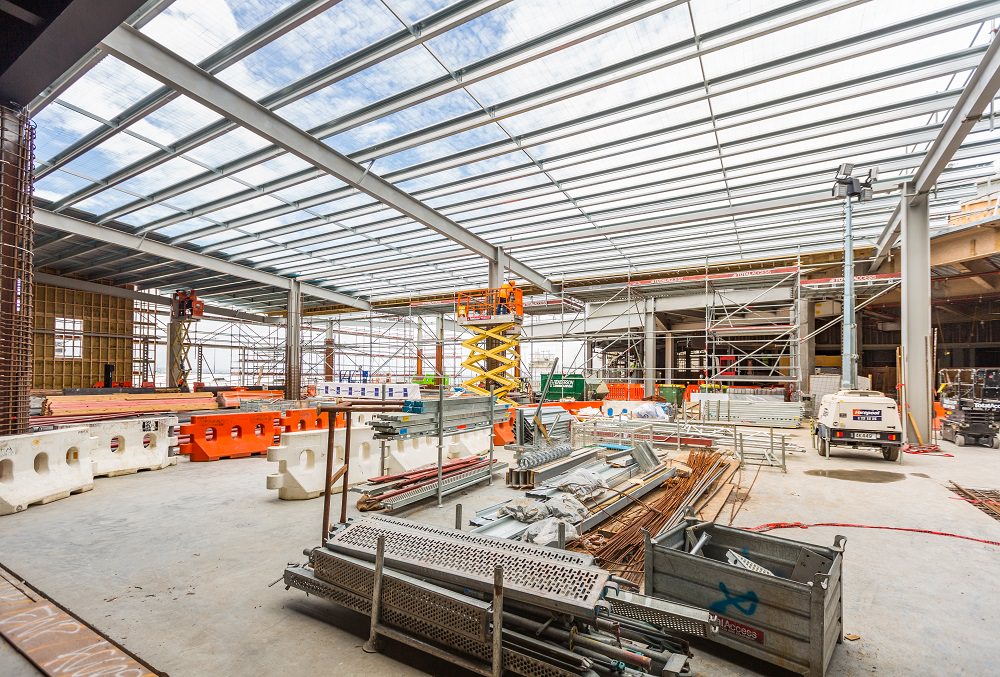 The duty free fit outs will commence in March, with the stores and new security processing area scheduled to open in June. To get ready for these fit outs, we have this last month completed final demolition works and floor grinding, and started to insulate the new roof. HVAC works are now underway in the outbound processing area where we will soon start to fit out the new recompose lounge.
The new retail space to the west of the terminal is taking shape, both below and above. Flooring in this area is now 80% complete, while the roof erection, comprising trusses, braces, purlins and walkways is also progressing well.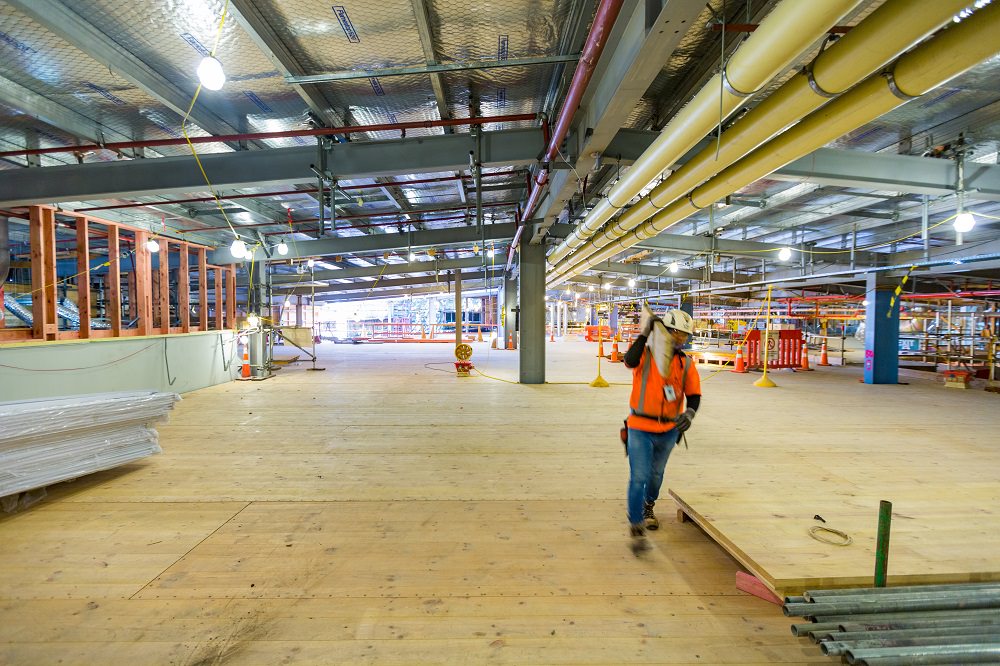 In more obvious proximity to the existing lounge and retail space, demolition of the old curved bulkhead has begun behind the new hoarding line. This demolition work will soon eat up the smokers deck – however a temporary area will be opened before this closes.
For operational queries related to this tranche of the work, please contact brendan.doyle@aucklandairport.co.nz.
Pier B extension
Progress on Pier B is more readily visible, with the extended structure clearly taking shape. All substructure and piling works for the 190 metre extension have now been completed, providing for a steady stream of structural steel installation – including the framing for Gatehouse 17. Work is also already underway on external facades and the roof.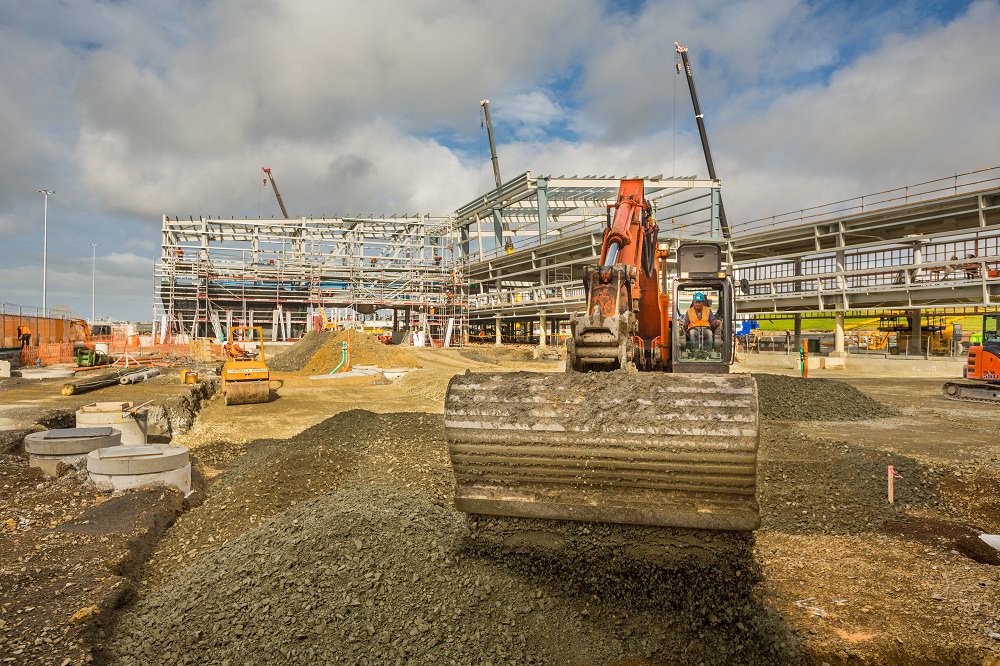 Over the next month we'll continue to prepare for the structural tie-in to the existing Pier B building. This may involve some noisy work at times – however we'll be doing all we can to keep any disruption to an absolute minimum.
With over 80,000 man-hours worked to date, the project has thrived on a blend of youth and experience; of 'can do' and 'know how'. While the youngest member of the Hawkins team, Mat Cox is still in his teenage years, Martin White has worked for Hawkins for 38 years, with a good proportion of these years spent working on projects at Auckland Airport. To borrow a nautical, rather than aviation phrase, it's always reassuring to have a safe pair of hands at the tiller.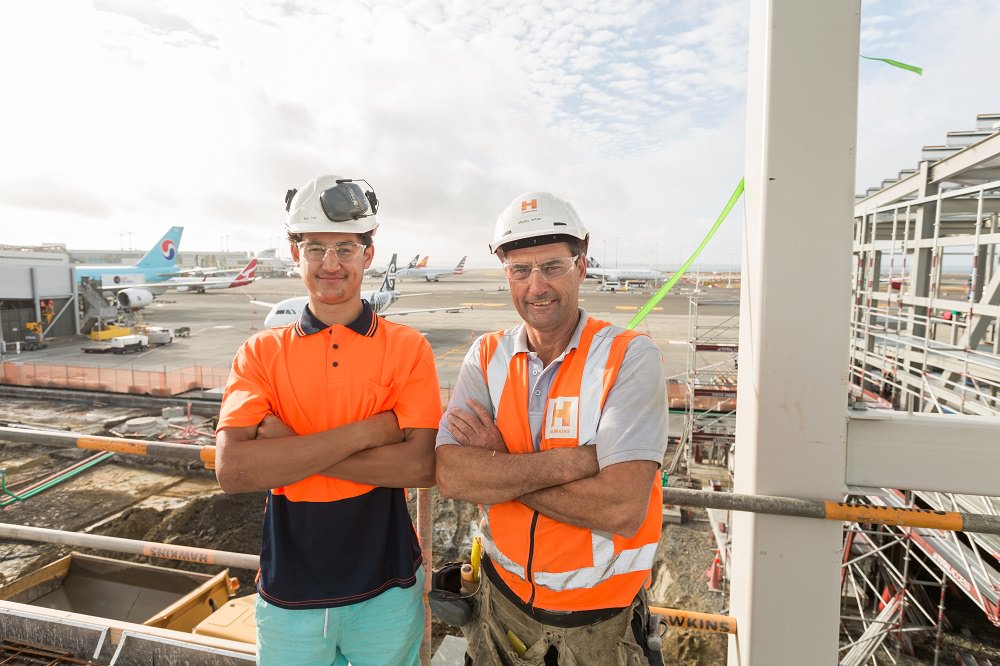 If you'd like to know more about any of the work currently underway around the airport, please don't hesitate to contact gez.johns@aucklandairport.co.nz. And thank you for your ongoing patience and cooperation.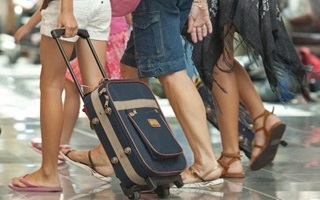 International terminal upgrade
Say hello to a new kind of goodbye
---
Find out more