Welcome to the world of whisky
If you are looking for a bottle of something special or a great price on an old favourite, the chances are you will find it at one of our duty free retailers.
With an incredible range from around the world you will be able to find a Single Malt, Scotch, Irish or American whiskey to your taste.
Check out the range available from Aelia Duty Free and The Loop Duty Free below.
Single Malt Whiskies
Always a popular choice and a great way to appreciate the character of a distillery.
We have plenty of options for you to savour with the likes of Glenlivet, Laphroaig, Aberlour, Mortlach, Glenmorangie, The Irishman and more.
Scotch
A good Scotch is essential to any whisky collection and we have plenty to choose from with a range of single malts and blended whiskies. Find a flavour profile to match your tastes with the likes of Chivas Regal, Glenlivet, Glendiddich, Cragganmore, Dewar's, Glenmorangie, Grant's, Highland Park, Johnnie Walker, Laphroaig, Talisker, Ballantine's, The Famous Grouse and many more.
Irish Whiskies
Although Ireland doesn't have anywhere near as many distilleries as Scotland, they produce some great whiskey, often less earthy or smoky than Scotch. Discover your favourite with Bushmills, Glendalough, Jameson, The Irishman, Tullamore D.E.W and Writers Tears and more.
American
Rye, Bourbon, Tennessee? We have them all so be sure to browse our range of famous drops like Jack Daniels, McKenna, Dalmore, Wild Turkey, Southern Comfort, Jim Beam, Makers Mark, Bulleit, Knob Creek, and many more.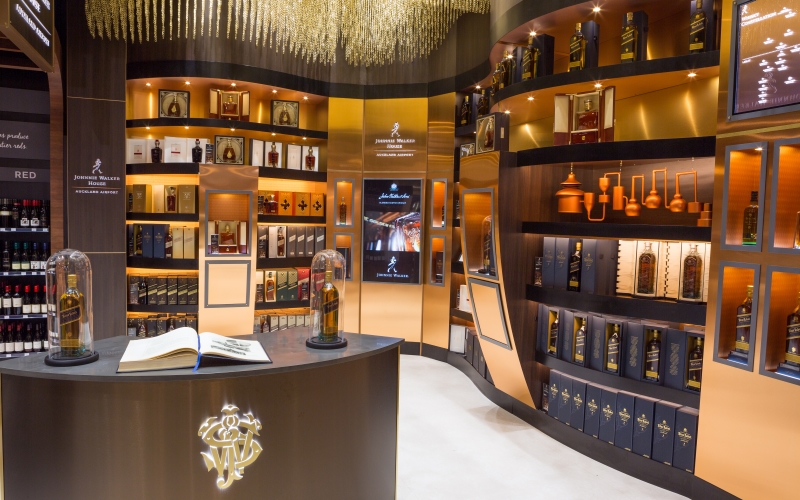 Johnnie Walker House
Whisky connoisseurs are able to immerse themselves in expert whisky advice, tastings of rare and limited edition releases and the pioneering story of Johnnie Walker.
An exclusive embassy for luxury Scotch Whisky, Johnnie Walker House is built around the theme of 'Whisky Conversations'. The Johnnie Walker House retail boutique at Aelia Duty Free Auckland Airport encapsulates the history, provenance and pioneering spirit of Johnnie Walker, offering striking wall installations, specialist whisky advice, and bespoke whisky experiences.